HELLO, FROM DENISE CARBONELL,
OWNER & OPERATOR OF
JOYFUL SPIRITS
REIKI & LIFE COACHING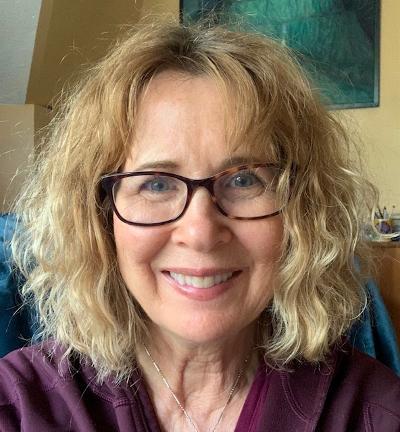 MY CREDENTIALS:
I hold a M.A.. in Guidance & Counseling from Eastern Michigan University, am a Licensed Professional Counselor in the State of Michigan, a Reiki Master, trained by Bonnie Dysinger of Gentle Touch Healing, & Life Coach training from the Institute For Life Coach Training in Ohio where I have a Professional Endorsement. I also have certificates for Esoteric Healing I-V training from Dr. Barbara Briner at The Institute for Bioenergy Studies in Okemos, Michigan, & am a Certified Hypnotist from my training with Robert Ranger at The Institute of Transformational Hypnotherapy in East Lansing, Michigan. I continue to learn & take classes & have been in an on going group class for spiritual growth since June of 2020.
HOW I GOT HERE AND WHY I DO WHAT I DO:
REIKI
After working for over 30 years in the field of counseling for both schools and organizations, I retired from my position of High School Guidance Counselor at Okemos High School, to go on a journey of seeking & of new adventures! Some of the things that I ended up doing were: working as an Educational Consultant with an OHS parent's business to help prepare students for college, taking Graphic Arts and drawing classes at Lansing, Community College, working for a year part time as a counselor with children, grades K-8, at The Immaculate Heart of Mary School, & leading a book talk about happiness & also a grief group, both at the church I was attending. While these activities were going on I found myself listening to many Internet talks and reading all I could about Quantum Physics. It was a new and exiting idea to me that everything is created out of energy and that "energy follows thought"! Early 2013 I enrolled in a Reiki class "just to learn what it is about". Within a short time of being at the training and learning about this peaceful, spiritual, and subtle energy I was hooked! I knew there and then during the training that it was my path to assist others in relaxation, stress reduction, & their growth & healing through sharing Reiki. Shortly after Reiki II, I began a home business, & later that year became a certified Reiki Master. The effects of Reiki on clients never ceases to amaze me! It is a wonderful feeling to share this energy with others who come to me stressed out or in pain only to see them leaving almost floating out in peace.
I have felt called to continue my energy healing work knowledge through Esoteric Healing training and as of this time have completed 5 levels of study. To me energy work & healing are exactly like what I have heard about "unpeeling the onion". One layer at a time-- we learn, grow, and heal towards reaching our essence & truth.
Life Coaching
I love people and learning about their lives and who they are! When I left the schools I felt that I still had more to give to others so I began searching around for what other form that could take. I found that Life Coaching dovetails with my background of counseling & psychology, my personality, and my Reiki practice, & is the perfect fit for me to offer to others. Life Coaching shares my beliefs that each of us is on our own chosen path in life, we each have our gifts & purpose, & that the answers are within us. We need good, objective listeners in our lives to help us sort things out, offer new perspectives, & encourage us on our journey. In 2013 I enrolled in classes and completed the training so that I can practice Life Coaching. It is so rewarding to assist clients with navigating change, learning to love and value themselves, creating awareness & possibilities in their lives, & in reaching their goals through the process of coaching! I have worked with clients from ages 13-85 & appreciated each one.
HYPNOSIS
I have never lost my love of learning about psychology & the conscious and subconscious minds so when the opportunity to learn about hypnosis practically fell in front of me, I knew I had to listen to my intuition & apply for the training! In January of 2017 I began training at The Institute of Transformational Hypnotherapy in East Lansing, Michigan. I am proud to say that on June 3, 2017, I became a Certified Hypnotist! Hypnotists coach, teach, guide, instruct, & train . Hypnotists help ordinary, everyday people with ordinary problems using individual hypnotic techniques. For a short time I offered this service to clients but have decided for the time being to let it go as an offering. Occasionally I have led groups for hypnosis and meditation practice.
OTHER:
I look forward to meeting, knowing you, & assisting you with change in your life whether it is change through your own desire & initiative to grow and heal, or due to your journey through life circumstances. Please contact me today for an appointment!
"The greatest force in the human body is the natural drive of the body to heal itself--but that force is not independent of the belief system.
Everything begins, therefore, with belief."
-Norman Cousins